The city of Dearborn in Michigan state is home to the largest Muslim population in the USA. It is also the largest Middle Eastern population outside of the Middle East. Dearborn is frequently targeted by the far-right who claim the city is the site of homegrown terrorism and under Sharia law.

In the West, particularly the USA, there is a one-dimensional view of Muslim communities. Dearborn is home to over eighty nationalities and each community expresses its faith uniquely. The town is thriving, even under the increasing weight of Islamaphobia. From Lebanese-Syrian immigrants arriving in the late 1800s to an influx of Middle Eastern immigrants through the Ford Motor Company in the 1950s, and in more recent years, refugees from Iraq, Syria, and Palestine, Dearborn remains an ever-changing community.
"My father was born in Damascus in 1895 and left Syria in 1906 due to the Ottoman Empire. In 1910, he arrived in America. I can't imagine my father coming here, but he had the fortitude of becoming American, and he moved here to Detroit.
In 1947, my family went to Syria for two years, and my father brought with two cars from the USA - two Buick's. The intention was to live in Damascus. We went on a boat from New York to Beirut - it took 17 days. The women were on one floor with young children and men on the second floor — there no private rooms.
When we came back to Dearborn in 1960, there were only 2,000 Middle Eastern immigrants. The struggle started, and it is what it is, and we become 'Americanised'. It's funny; once you become a second or third-generation American - you then find trouble with new immigrants. There's a right of passage! I feel reticent about them having it easy. I know, it's silly!"
Eid Alawan, Dearborn resident.
"God has created us differently, so we come to know each other better. I believe that is written in the Quran.
When 911 occurred, I got three phone-calls - one from a priest, a Presbyterian church minister, and an Episcopalian priest. They all asked how I was. I was invited to bring friends from the Mosque to the Church that evening. We all prayed together, and we read from the Quran in English and from the Bible. We wanted to put our arms around each other to be there for each other.
The last year, there have been so many attacks at mosques, churches, and temples from white nationalists. I know that at least 50 Sikhs have been killed since 911 because people mistook them for Muslims. Those who were visible suffered the most. I went to three synagogues recently to familiarise myself - because I feel like they are my people: Abrahamic traditions - Christians, Jews, and Muslims. We're teaching love, respect, honesty, and decency".
Eid Alawan, Dearborn resident.

"I co-founded the Islamic Centre of America and was the ICA's Imam for 18 years. In 2017, I resigned and it felt like a divorce - I tried and tried. If I didn't fight, I was pushed aside. If I fought, it distracted me from my work.
While I was resigning, I did a Friday prayer and publicly explained why I was leaving. The board told me that they didn't want Iraqis in the mosque which would mean discluding my family. I was penniless when I left the ICA but I had ambition and relied on God. I remember when we looked for a place, and two friends asked me the budget, and I said 'the bigger, the better'. I told them I had a friend who would advise, and they said, 'Who!' And I said, 'God!'.
In 2017, we found this place and moved in. It was a Baptist church and they wanted to relocate. It isn't as big as the Islamic Centre of America, but we can hold a Masjid of up to 500 people. Most neighbours are Muslim, and it's convenient".
Imam Hassan Qazwini, Dearborn
"I was invited by Fox News to have a live TV debate with Terry Jones after he publicly burned the Quran in Dearborn. I told him, "you have blood on your hands". His actions resulted in protests in Afghanistan where 19 people were killed.
We do abuse our freedom of speech in America, and often it's a misuse of freedom. Just because we have free press doesn't mean it's the truth. They're not synonymous with each other. There is a distinct difference between freedom of expression versus inciting violence. Look at New Zealand. He was being bombarded with anti-Islamic rhetoric, and this is how he responded.
Before 1992 I'd never entered a church or temple or synagogue. After I moved to the US, I started to. When you have this interaction, you see we're alike. Out of stereotypes, we build mountains of misconceptions. When we break bread, you see these suspicions evaporate. Our similarities are greater than our differences. Peer research showed that 52% of Americans had not met a Muslim before. In 2015, 47% of American people had negative views of Muslims. If you don't interact and see Muslims, you're going to come to your own conclusions, and this is undoubtedly fed by the media".
Imam Hassan Qazwini, Dearborn

"My daughter Hiba was in 4th grade, and we were in Dearborn shopping. My daughter says, "Emma isn't talking to me anymore, she won't be my friend. I didn't do anything, but she told me my religion teaches you to kill people". I was outraged and spoke to the principal explaining that it is fundamentally wrong for a child to say things like that. It turned out Emma heard it from her parents. The media doesn't help at all - there are biases and islamophobia. Since the terrorist attacks in New Zealand and Sri Lanka - we've stepped up our security. We've had a person come around Warren Mosque a year ago on a bicycle, taking photos and filming the building. I contacted the FBI, and within 24 hours, they found him. They prohibited him from coming to the property after seeing he was planning a terrorist attack.
Trump escalated racism, and the community continues to feel the effects. It has emboldened white supremacists. I'm just thankful that Emma and Hiba became friends again".
Imam Mustapha Al Turk at the Islamic Organization of North America, based in Warren.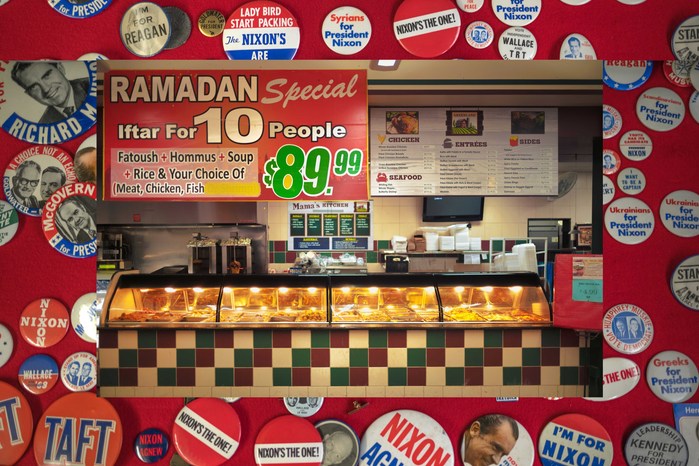 We reach Najah's father's tombstone. On one side of his grave is the symbol for the United States Army, and on the other side is a depiction of Allah, Mohammad, and the Kaaba [Great Mosque in Mecca] in the middle.
"My father always wanted American flags on his grave, but we've taken them down for the wintertime. Shi'a graves are decorated with monuments and flowers, while Sunni graves are discreet. What is telling is the way American-Muslims adorn their gravestones. It's not just Quran or Arabic, but poems in English too, American flags and a celebration of history".
Najah Bazzy

"I was working as a nurse and clinical transcultural specialist on ethics case with refugees and the Muslim community. I wanted to implement culture sensitivity programs. Medicaid back then would only cover cremation [haram in Islam], so we'd approach people to get enough money to bury the baby. During that time, I brought in policy for translation services, so women could understand there was a choice to bury or cremate their baby. In the hospital, I found 222 fetuses in a hospital pathology lab that hadn't been buried. They were unclaimed if the parent doesn't sign the release. As some women were illiterate, or could not fully understand the release forms, many didn't know to sign them. We purchased a plot to bury 235 babies presently, and they're almost exclusively refugees.
Iraqi Muslim refugee women thought their babies were buried, but they were, in fact, cremated. This is against Muslim practices. One woman said she wanted to know where I buried the baby as she could hear her baby calling. I told her I didn't bury it. She said, "Where is my baby!". I asked if she signed anything, and she said no. She didn't know where her baby was. Then I found out her baby had been cremated. I asked the physician to call her and explain personally. The highest administration called me out and made my life tricky. I don't care, and I would never turn away from that choice. Never, ever.
Now, we focus on women and children living below $10,000 a year. We're empowering and stabilizing women living in extreme poverty. They come in for food, clothes, and literacy training. We have graduation programs, and then they're off to work.
The case that compelled me to start Zaman was when I worked with an Iraqi family with newborn twins from Basra in 1996. One baby died, and the second survived but was dying quickly. The physician wanted to terminate the baby's life, but the family refused. They had lost their whole family under Saddam, so I advocated for the family to put the baby into a hospice. When I visited their home, I saw it was empty. They brought the baby to me in a laundry basket but were so full of pride for their family and home".
At that point, I notice the name of a friend. "Oh, Najah, I never knew their baby died too."
"Yes, and they chose to bury their baby here too."
Najah Bazzy, Founder of Zaman

"I was born into a Christian family in Orlando and we always went to church. I was eleven years old and visiting Universal Studios when I first noticed women in hijab. I was intrigued, and remember thinking how free the women seemed. My mother and I converted to Islam later in life. She converted first and then I followed her lead.
When I first came to Zaman I was depressed, with low self esteem and struggling to find myself. I had growing pains. I have four kids. I came here for food and clothing first. The lady at the door encourage me to take sewing classes. Today is my last day at Zaman. I now have my own hijab business. I want to give back, and I hope I will be in that position".
Jennah at Zaman's offices in Inkster, Michigan
"When I moved to Dearborn, and I noticed a lot of women shied away from me. It hurt me badly to see how my ethnicity affects life here. It hurts me when I'm excluded, especially at Friday prayers. I have a great Iraqi friend, and she treats me as her sister, but I can often feel out of place in this community. Sometimes people look at me oddly, they see me and ask me if I'm Muslim. I think it's rude and disrespectful. I don't know what's going on with the sisterhood of Islam. At this time, we need each other, especially when society already hates us. I'm not the enemy. As an African American Muslim woman, there is a lot against me. We need to stand united; after all, we all bleed the same".
Jennah at Zaman's offices in Inkster, Michigan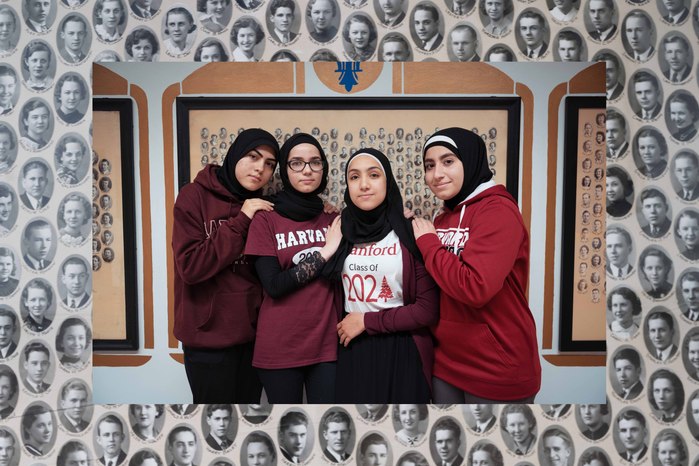 "It's a crucial time for Muslims in America. The media works relentlessly to portray one image, and there's a lot of pressure to work against it. There is an expectation of who we are. It's a wonderful accomplishment we've all made to get into top universities. We all belong in the conversation. We've isolated in Dearborn so we don't have to deal with hatred. We're lucky".
Nasreen
"My family came to the states three years ago. As an asylum seeker and Iraqi refugee, I share the accomplishment of getting into university with all of my family. I knew I could reach this, I knew within me regardless of my environment and doubts. Being American or not - I take the morals of being and living in America. I believe there are a lot of differences between another American citizen and me, in terms of the culture. The environment I grew up in has to be considered as the transition was difficult. My family struggled for three years, especially my parents. Their hard work had paid off by getting me into Harvard. When people outside the community look at us, they see us as one community. We're not; the community makes up 100s of cultures and countries. We're not the same people. We simply share a common ground.".
Iman
"My parents are immigrants, and nothing was expected of me. No one thought I was capable of getting into Harvard. As a Muslim woman, this is a big moment. I didn't have that head start. When I went to Harvard for two days, I felt the weight of the departure. The Muslim community at Harvard is tiny, but I won't be concerned about it all. I'm there to educate myself in every way".
Mariam
Fordson Highschool in Dearborn, Michigan.

"I remember Obama visiting Dearborn and saying, "what Dearborn does is the exception, not the rule in America." He was very complimentary and encouraging about our cultural diversity, community engagement, and proactive public safety measures. I try not to amplify the haters, and I teach people to ignore them and show reverse rage. No one should apologise for being human. This hatred and bigotry in social media and news - I call them split screen critics. I recommend to our citizens not to respond on social media - as it perpetuates the message they take objection to.
When it comes to threats and public safety - these critics make our job harder. The FBI and State take an interest in preventing hate crimes - it's stringent. In our city, we haven't experienced an increase in hate crime. Although, hate crime under the state statute is narrowly defined - if you don't meet the tight legal window, it won't be prosecuted. We're forever fighting the statutory provision of the what the law states. The law is such that you can't charge them with terrorism.

Dearborn Police Chief Ronald Haddad in his office in Dearborn, Michigan.

"The coverage in the media is wholly inaccurate and imbalanced. They're much more forgiving of white males than others, but that's because the constitution was written by white men, and designed for white men. The cultural and family role model - the traditional roles from the 1600-1700 - they still carry into the legal realm. The reality is, white males write the rules for everyone else, from their perspective and self-interest, which is entrenched in all of civilization".
Dearborn Police Chief Ronald Haddad in his office in Dearborn, Michigan.
"It's so sad that people are afraid to give us coverage. We have Ilhan Omar and Rashida Tlaib in Congress. They tried to smear them, and they couldn't. We built the mosque in 1964, and we were amazed. Americans, building a mosque! It was when Imam's arrived that things changed. American Muslims and Immigrants - it changed the dynamics. This area is continually changing and growing. The largest and longest influx of immigrants - it's hard for a city. We're so far behind, and you'd think we'd be more established than we are. We're so old, and also so new. New immigrants brought money, and then the boards would listen to the money. I think that's what kept us back.
People say this place, America, is a melting pot. It's not. I mean, we coexist, and we're all Americans. We come here with our own culture, and we shouldn't be forced to assimilate. We have American values, as well as our cultural values. I have friends who say you should give up that identity. Sometimes I feel isolated like I'm on the inside and also the outside. Many Americans say horrible things about Allah. It's just an Arabic word; it means God. It's not separate."
Mariam Eastman, Dearborn resident.
"I've been here six years and came straight to Dearborn from Iraq. My brother was living here. I came here as refugee status. I was bewildered when I arrived here. I wish I could read and speak English. I'm learning. I want to be independent, but I've had a lot of difficulty trying to learn English. I feel the opposite to the stereotype of 'the Muslim woman'. To wear hijab is my honour and it's never bothered me. I live a normal life and I've never felt isolated because of it. I know my family feels the same way.
After all, you say goodbye once, but hello twice".
Salima at Zaman, a charity run by Najah Bazzy that supports vulnerable women.